Life in the tropics may mean sunny weather and great temperatures year-round, but it also means that you've got to find some way to cool down when things get too hot.
While you can always switch on the AC, I personally think there's nothing better than taking a dip in a pool.
So, whether you want to enjoy some me-time by the poolside or you're looking to get some exercise, there are plenty of places to enjoy the dry season in Medellin.
Prepare your duck float; in this article, I'll show you where to go for a swim around Medellín!
Aeroparque Juan Pablo II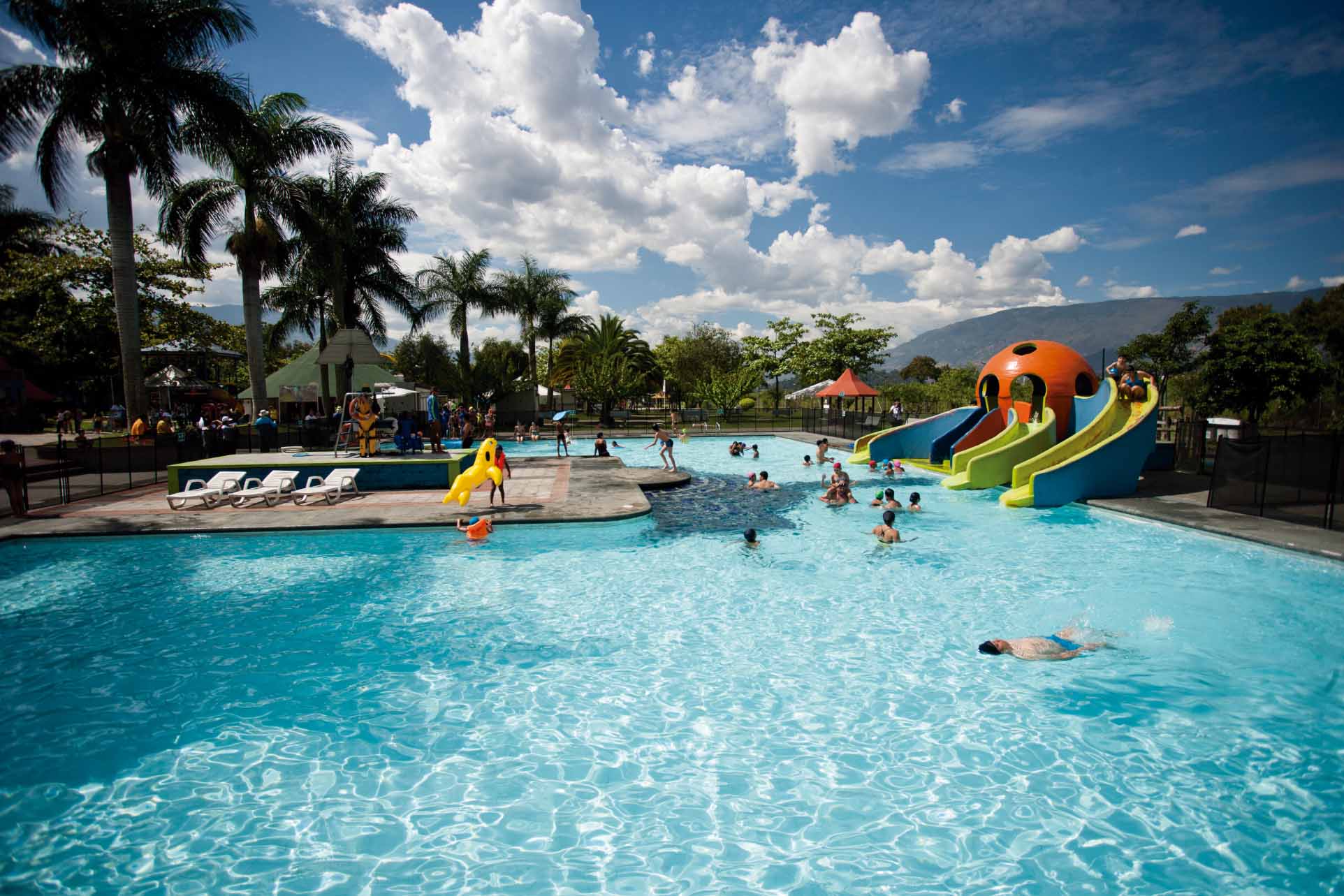 The largest water park in the city, Aeroparque Juan Pablo is top of the list when it comes to the best swimming pools in Medellín. 
The park has water slides, swimming pools, splash zones, children's pool, and a semi-Olympic pool for those who want to train hard and burn calories.
If you're going to stay in Medellin for a while, you can also enroll in the hydro aerobics classes that are held from Tuesday to Friday in the mornings. It's a great way to try new things and make friends in the process.
Other activities you can try at the park include:
Swimming lessons on the weekends
Turkish baths every Sunday
The ticket price to the park is very reasonable, regardless of whether you're going for a workout or you just want to have fun.
Just remember to pack the following items so you can stay safe and have fun in the sun:
Water bottles
Waterproof sunscreen
Snacks
A wide-brimmed hat
A change of dry clothes
Swimming cap
Lycra swimsuit
Rooftop Pool at the Marquee
One of the best places to cool off while admiring Medellin's sunset with a Muay Thai in hand is the rooftop at the Marquee Hotel.
In fact, I'd say this is the perfect place to go on a date or chill out with your group of friends!
The one thing you should know is that you do have to be a guest of the hotel to access the pool. Still, that just makes it that much easier to enjoy your time.
No need to worry about designated drivers; grab some cocktails and lounge in the pool before strolling downstairs to your room!
Piscina La Ladera
This pool is free to access as it belongs to the Medellin mayor's office. So, if you're on a bit of a budget, this is the place to go.
Whereas some of the other pools I'll talk about are great places to relax and wind down, this pool is dedicated to sports. Here, you can either swim laps or join one of the many aquatic classes that go on.
To get into the pool, you only need a valid ID (your passport works fine) and a suitable swimsuit.
While the pool does get a bit crowded, it's still a nice place to splash around and cool off for a bit. Just remember—the place is closed on Mondays for cleaning and maintenance!
Piscina Los Alcazares
This pool is located in a sports center, so you can also access its classes and other machinery and services.
A few of the classes they offer here include:
Water activities for babies
Swimming lessons
Aquatic activities for the elderly
Therapeutic swimming
Swimming for pregnant women
Disabled swimming
Aquagym
Aquaerobics
I've done the aquaerobics classes, and trust me, they're hard!
To enter the Alcazares pool, you need a valid ID. You'll get the first hour free and then pay a small per-hour fee to keep using the pool.
Insider tip: The best times to go swimming are weekdays in the morning, as there are not many people, so it's a great time to go swim laps!
Landmark Hotel
This pool on the terrace of a pet-friendly hotel has incredible views of Medellin! Plus,the staff at this place is fantastic, so it really makes for a great swim. 
The Landmark Hotel is located in one of the most popular neighborhoods of Medellin, Poblado. You'll get stunning views of the area from the roof of the swimming pool!
The hotel also has a hot tub, and since nights can get chilly in Medellín, that's the perfect place to hang out.
The hotel doesn't have a private parking lot, but the staff is very friendly and can order a taxi for you.
Atanasio Girardot Sports Complex
This is the largest sports center in Medellin. Admission is free, and you can make a reservation and swim some laps here without a problem.
The reservation system is great because it helps limit how many people are using the pool at once. That prevents things from getting overly crowded.
If you want to try something new, there are other types of sports and classes you can participate in at the center:
All swimming styles
Diving
Synchronized swimming
Water polo
Underwater rugby
Underwater hockey
Scuba diving
Freediving
Swim with monofin and bifin
If your plan is to get some exercise and stay fit, this is the perfect place to spend the day.
Hotel Estelar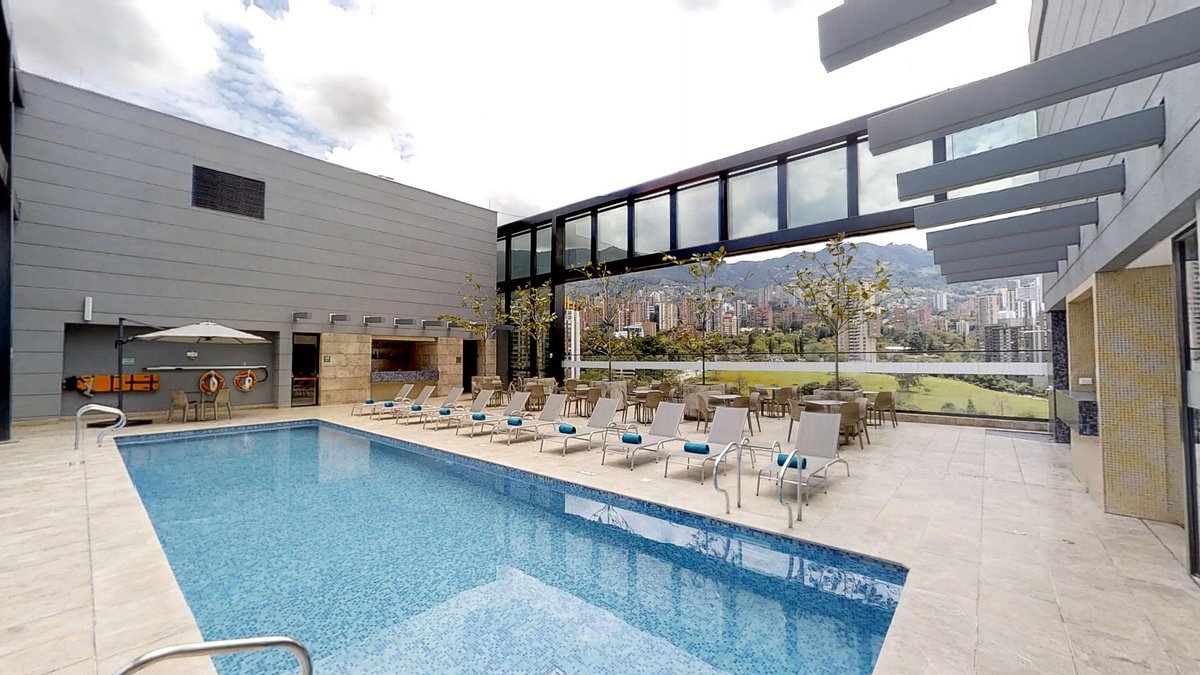 This pool is located in another Poblado hotel and is open everyday during daylight hours.
The pool here is slightly larger, and it's best to use it during the morning when there are fewer people. You can even swing by the spa afterward to work out the kinks from your swimming exercise!
Take a Dip in the Best Pools of Medellin
There are tons of great places to go for a swim around Medellin.
Whether you're looking for a family experience or a relaxing day with your date, in Medellin, you'll find a lot of options to choose from. Slap on some sunscreen and enjoy a refreshing day at the pool!