More and more frequently I feel the need to observe and analyze a food dish to understand the origins and tradition of a place. Through the following article, I will show the gastronomy of Antioquia along with the typical food of Medellin that at first glance may seem heavy and caloric but in its day had a reason for being, and the answer is none other than the work from sun up to sun down that muleteers and peasants performed during their working day.
We must travel with curious eyes – and a large stomach – to understand all the elements that the typical cuisine of a region offers us. The typical dishes of Antioquia show us the mixture of civilizations that existed for several centuries.
Firstly, the indigenous influence through beans, corn, yucca, wild fruits, vegetables, or tubers, secondly the Spanish influence with its Iberian crops such as oil, dried meat, olives, flour, or preserves among other ingredients from Hispanic colonies scattered around the world such as bananas from Africa, avocados from Central America or rice from Asia.
It is essential to understand in the process of the gastronomy of Antioquia and the typical food of Medellin that both the European and American cultivation as well as the ingredients brought from the seven seas are vital for this final result.
Now, without further ado, we mention the most famous dishes of Antioquian gastronomy that we were able to taste during our trip to Medellin.
1. Ajiacos
Paisa Tray
Dish par excellence of Antioquian cuisine and from my point of view of Colombia. Surprisingly, it is not more than 50 years old, so its rapid popularity is perhaps due to its tasty flavor. Traditionally, the bandeja paisa is presented with the following ingredients: beans, white rice, grilled meat, chicharrón, chorizo, sweet plantains or tostones, fried egg, avocado, and a white or yellow arepita antioqueña. Although each house may modify the recipe, the original dish has fifteen main ingredients.
Don't worry if you can't finish it all, as the paisas do, you can leave it for the next day and make a calentao.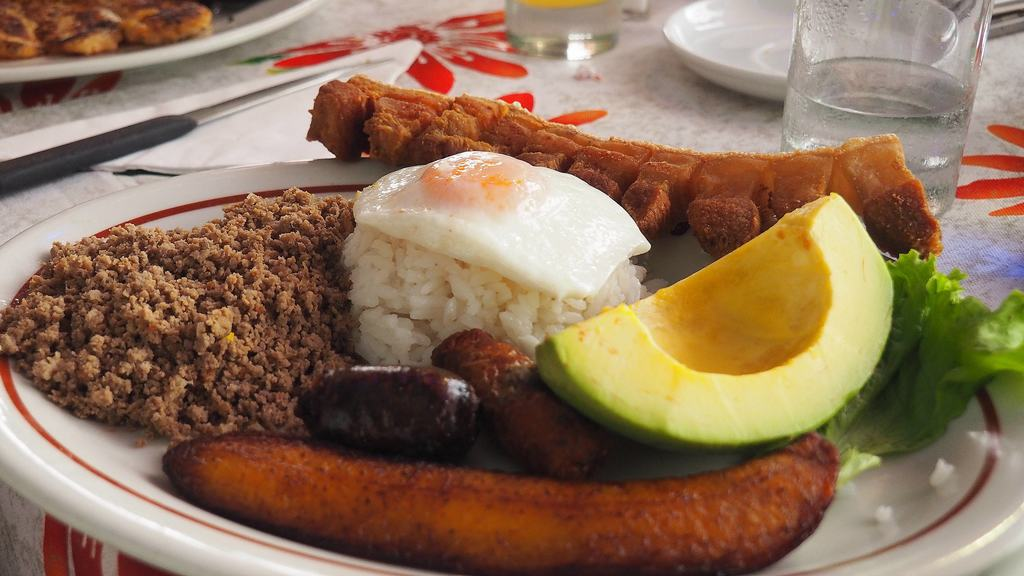 Calentao
As a consequence of the previous sentence, I have been forced to talk about the typical breakfast of Medellín, the curious calentao. It is a plate of food that was not consumed the day before. In the hotels, you can find it in a mixture of rice, beans, and eggs. I recommend accompanying it with an arepa. Delicious.
Sancocho
Medellín is a soup paradise. No matter the weather, whether it is raining or sunny, whether it is for breakfast, lunch, or dinner, what is certain is that it is one of the classic dishes of Antioquia's gastronomy. The sancocho has potatoes, yucca, plantains, and corn on the cob. As for meats, it has three types of meat: chicken, pork, and beef. The result of mixing and cooking all this is a delicious broth full of substance. Normally the soup is accompanied by rice, avocado, and chopped cilantro to give it much more flavor. Undoubtedly one of the typical dishes of Antioquia.
Mondongo
Mondongo is a hearty soup that includes pork, tripe, and chorizo. For this soup to become one of the best, the meat and vegetables must be cooked together in a pot until everything is well cooked. The mondongo is usually served with rice, avocado, and plantain. If you want a different flavor, you can squeeze a lemon to cut some of the fat. This dish is usually cooked for approximately two hours to enjoy to the fullest.
When we talked at the beginning of the article about the Spanish influence in the gastronomy of Antioquia and the typical food of Medellín, it was not a trivial statement. Mondongo is a traditional dish from Murcia – a Spanish region where my father comes from – and was exported to America during the time of evangelization.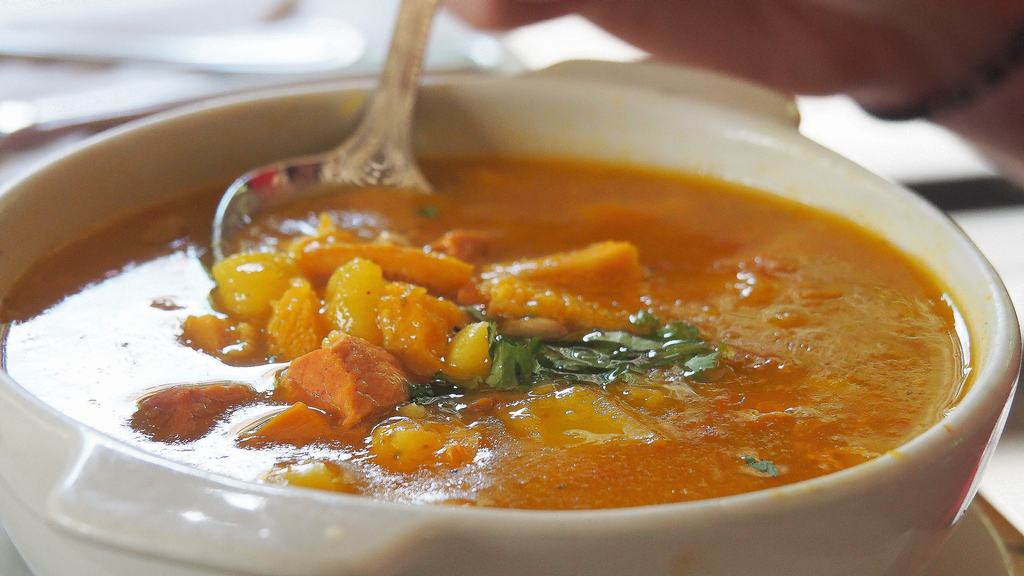 Church Empanadas
Continuing with the thread of clerical influence, Medellín is the city of empanadas de Iglesia. It receives this name because it is the tasty little empanadas that are sold in street stalls when you leave mass on Sundays. These delicious empanadas are filled with potatoes. When the potato filling is Creole, it is called pipian. They are available with different ingredients such as meat, chicken, fish, and rice. These empanadas are accompanied by sweet chili, giving them a unique flavor. One of the typical dishes of Antioquia that we liked the most.
The most famous of Medellin is the potato empanadas and there are many points or troughs in the city where you can go to eat them for breakfast. Many of the people who eat them, return to Medellin just to indulge in them again and again.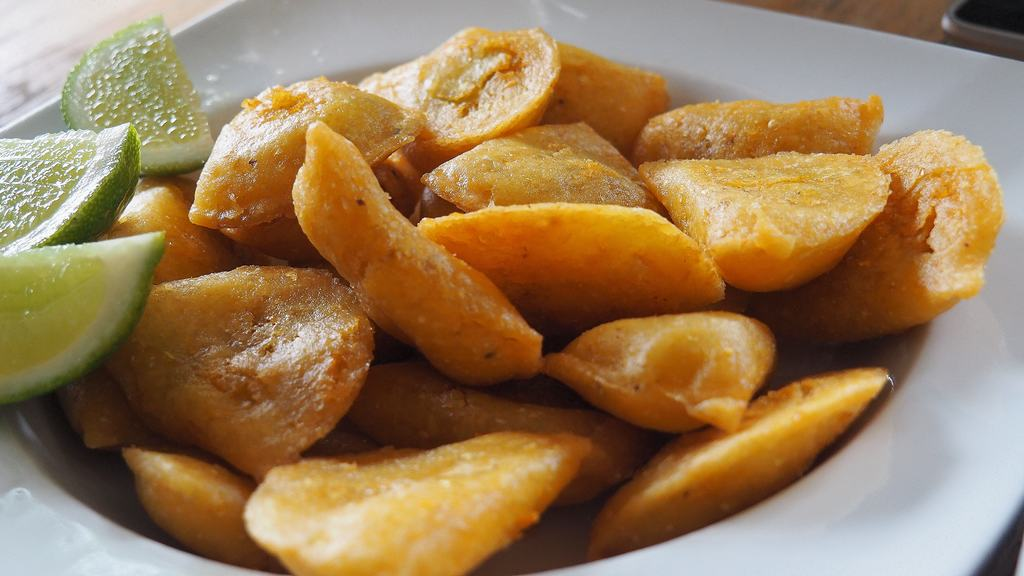 Arepas
There is always the eternal battle of whether arepas are Colombian or Venezuelan, however, I can safely say that the arepa is a typical dish of Medellin since time immemorial. Its easy preparation, its common ingredients, and competitive prices make it one of the food par excellence the paisas. You can find it practically in any corner of the city and it also accompanies many typical Antioquian dishes such as morcilla paisa, for example.
Months ago while flying over the Nazca lines I discovered Pedro Cieza de León, explorer from Extremadura and Andean historian, and his famous work Crónica del Perú. He claimed in the second part of the book "The Lordship of the Incas" that in a brief passage through the port of Cartagena de Indias in the sixteenth century he had tasted the best arepas – cornbread – of the entire empire in the different viceroyalties he had visited, even comparing them with the traditional Spanish wheat bread, the indigenous arepa winning the battle.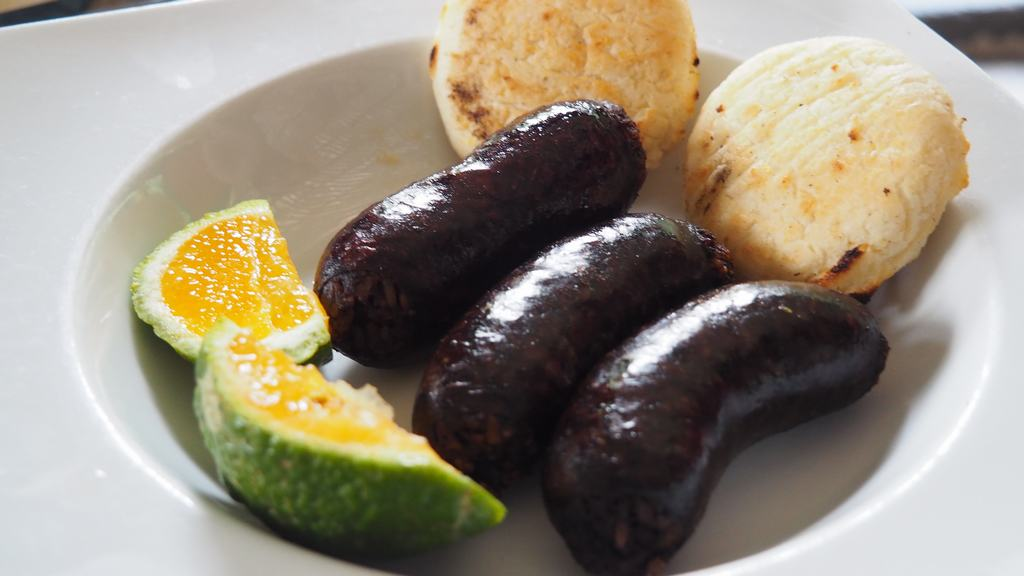 Traditional Arepas:
Traditional Paisa or Arepa de Tela
Made of peeled corn
Desmechada
Of mote
Of arriero
Arepa de chócolo con quesito antioqueño (Broccoli Arepa with cheese from Antioquia)
Quesito Antioqueño
Quesito Antioqueño is one of the favorite accompaniments to arepas. It is a special type of fresh cheese, made with rennet and bovine milk and traditionally known as quesito. We had the opportunity to eat it at a silletera farm in Santa Elena, probably the best place in Antioquia to remember this tasty combination.
Street Fruit
For those of us who don't live in Latin America, we envy the concept of exotic fresh fruit that exists here. The street fruit is one of the tastiest ingredients to understand that the gastronomy of Antioquia in recent times has been linked to the juice or the ingestion of products from mother nature.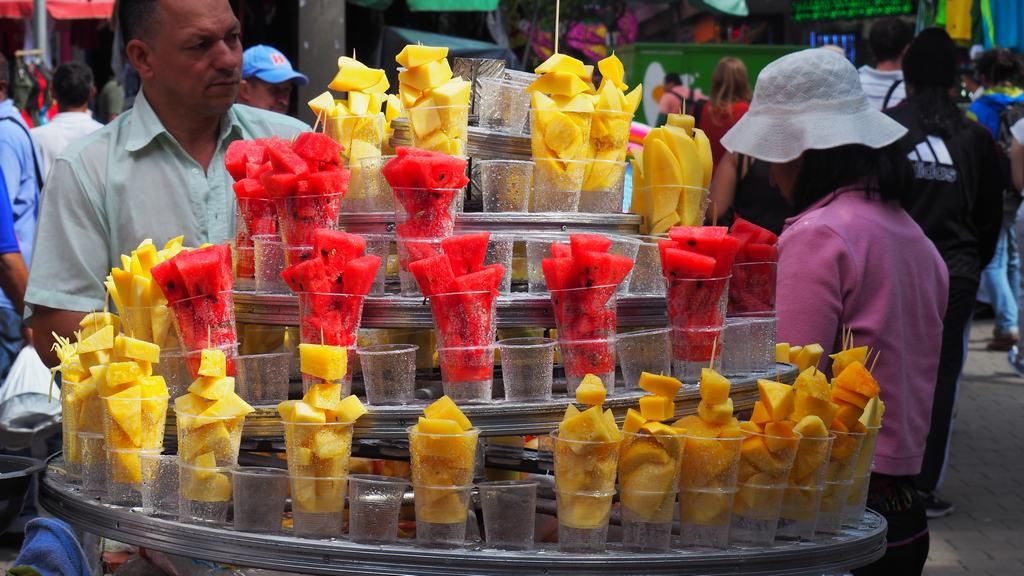 Coffee
To write about Colombia and not do it about coffee would be a sacrilege. During our trip, we did not have the opportunity to visit the Coffee Axis, but despite this, in Medellin, we were fortunate enough to go to the right place for a coffee tasting. Pergamino is the name of the place that houses a magical space where you can get to feel the coffee from its origin in the field to the cup.
Probably what I liked most about Pergamino is that just like in Spain, the best products are for export since the foreigner pays a higher price for the product, it is what it is to live in a world with a neoliberal economy, however, this rule is broken in Pergamino since its quality standards are those of offering one of the best coffees in the entire Republic. If you are looking to relax for a while, to be in a place of your own to talk or read, to learn about coffee through cupping, or to taste delicious cakes, Pergamino, and its relaxed and cool atmosphere is ideal. By the way, it has been a long time since I have seen so many Macs, not even in Manhattan! No wonder it is considered the number 1 coffee shop in Medellín on Tripadvisor! Here is a video of one of the baristas at Pergamino.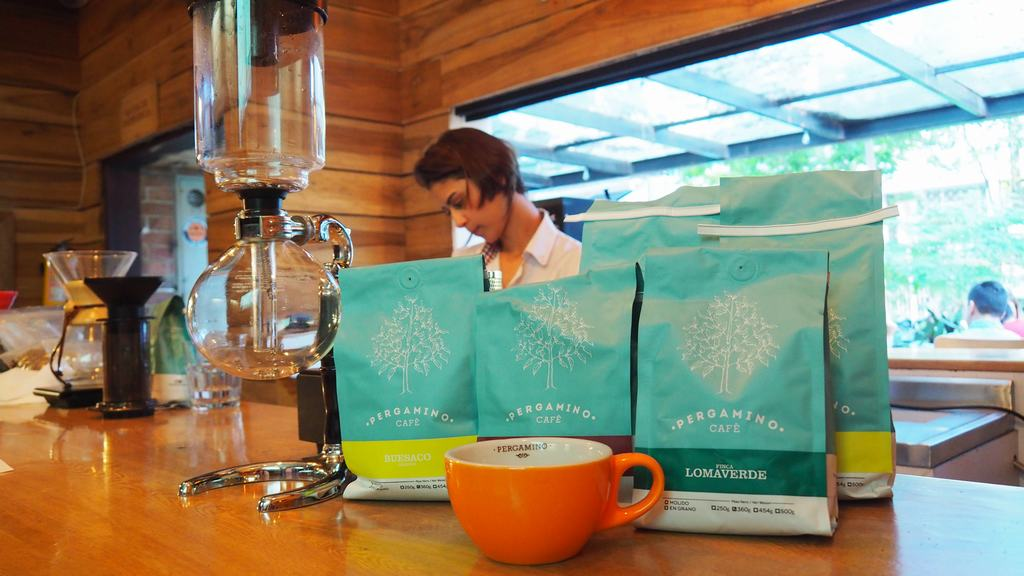 Haute Cuisine – El Cielo Restaurant.
Antioquia's gastronomy is increasing in terms of international positioning. Numerous restaurants with glamour and designer cuisine have been installed in the capital – most of them in the Provenza area – making Medellín take a qualitative leap compared to other Latin American cities.
We had the opportunity to try several signature cuisine restaurants and our favorite was El Cielo with its 13 temptations. The chef applies neuroscience in the kitchen to make not only the palate enjoy this gastronomic experience based on Colombian roots and with the "laboratory" creativity of signature cuisine. This experience is focused on those who understand that gastronomy and art go hand in hand and that we no longer eat to survive. The human being must savor the table in small portions full of dedication that the chef carefully and lovingly prepares for the diners.
Finally, as far as this section of avant-garde cuisine is concerned, going to Medellin to try this type of restaurant is a very profitable experience if we take into account what a similar experience could cost if we decide to do it in New York, Paris, Barcelona or Tokyo.
Other typical dishes of the Antioquian gastronomy
Antioquian beans
Beans with hoof
Bean cream
Antioquian blood sausage
Antioquian sausage
Charcoal-grilled or barbecued meats
Posta or boy sudaos or "sudao".
Caramelized pork loin
Patacones antioqueños
Hogao
Pegao
Rice soup with powdered meat
Rice with chicken
Fast fried, stuffed potato, sausage, meat or chicken pie, fritter
Antioquian tamale
Empanadas antioqueñas
Panderos, yucca bread and cheese bread
Parva
Chocolate parviao
Mazamorra with Dulce Macho
Tree tomato juice
Conclusion of the typical food of Medellín and Gastronomy of Antioquía
To conclude, I consider that the gastronomy of Antioquia has that touch of familiar flavor that takes us back to the origins and a common past, so the feeling of happiness is inexplicable when discovering dishes, ingredients, and products from both sides of the pond representing the typical food of a place. Without detracting from the rest of the gastronomic cultures of the Republic, the typical food of Medellin is unique because it has specific characteristics and culinary customs of its own, reinforcing the idea of paisa cultural identity. I hope you liked this article focused on the typical dishes of Antioquia, if you think we are missing any of them do not hesitate to write us a comment.